The Copper Bullet Difference
Lightweight & easy to use

Expands to a full-size 3/4 inch
power hose.

Built to last

3X stronger outer sleeve +
3 layers of latex tubing!

Proven safe

Lead-free & drinking water safe for your family and pets.

One-of-a-kind innovation

The original hose that grows
with over 100 US and worldwide patents!
Why Pocket Hose® Copper Bullet?
It's the best Pocket Hose ever made with 5 incredible innovations!
1
3x Stronger, Anti-Burst Outer Sleeve.
2
3 layers of latex inner tubing.
3
Extra-strength, triple polymer connector protectors.
4
Infused with Real copper.
5
20% larger, more robust connectors.
Get Your Pocket Hose
Watering Made Easy
Just turn on the water and watch Pocket Hose Copper Bullet magically expand from pocket size to super size. It's lightweight, resists snags and tears, and will never kink! So, it's the perfect hose for any job around the house, from watering the grass to washing the car.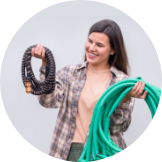 Portable and Lightweight
The Pockethose® is compact and lightweight, making it easy to carry around and use wherever you go. You can use it to water your plants, lawn, wash your car, or clean your outdoor furniture.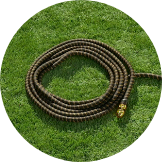 Expandable
Pocket Hose expands from pocket size to super size. Available in 4 sizes: 25, 50, 75, and 100 feet.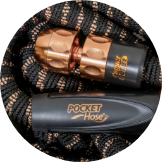 Durable
Made with high-quality materials, Pocket Hose is built to last. It is resistant to kinks, leaks, and punctures, ensuring that you can use it for years without worrying about replacement.
Turbo Shot Nozzle Included
Your Pocket Hose comes complete with an adjustable Turbo Shot spray nozzle. It's perfect for all your watering needs.
Saves Space
The Pocket Hose® is designed to save space. It is compact and can be easily stored in a small space, making it perfect for people who live in apartments or have limited storage space.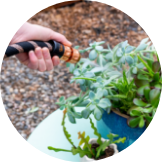 Versatile
The Pocket Hose® is versatile and can be used for a variety of applications. You can use it for gardening, cleaning, and even washing your pets.
+
Lightweight, flexible, and kink-free
The hose is lightweight, flexible, and kink-free, making it easy to use and store. It is also expandable and can grow up to three times its length when in use.
+
3/4" Diameter
Pocket Hose is a full 3/4 inch power hose with perfect pressure to handle any job.
+
Perfect for all size yards
Available in 4 sizes, the Pocket Hose Copper Bullet has the right size for your home. Whether you're watering a small patio or large yard, we've got you covered!
+
Safe to Drink from
Lead-free and drinking water safe. Copper Bullet is better for your family, pets, plants, even the world!
4.8 Star reviews
4.8 Star reviews

Works great
Great pressure and very light weight. You can change the nozzle to your own if you choose to.

Compact but packs a punch
You wouldn't believe this expands to 50 ft by looking at it. So much more convenient than a regular garden hose. The nozzle provides a really powerful spray. It is very lightweight and easy to carry around.

Good Water Hose
This water hose is great quality. It's well made and the craftsmanship is really nice. It looks great and it's easy to set up and use.
The Pocket Hose Copper Bullet is made using durable and tough materials of
the highest quality

, designed for efficiency and ease of use.
U.S & Worldwide Patent Protected
Copper Bullet is the best Pocket Hose ever made and its ingenuity is covered with over 100 patents. It's the original and the best.
Get Your Pocket Hose
Learn More
Pocket Hose | Copper Bullet
Regular price
$39.99
Sale price
$30.00
Unit price
per
Sale
Sold out
Grab The Perfect Add-on!
Learn More
Pocket Hose | Copper Bullet Thumb Drive 10 Pattern Sprayer
$29.99
View full details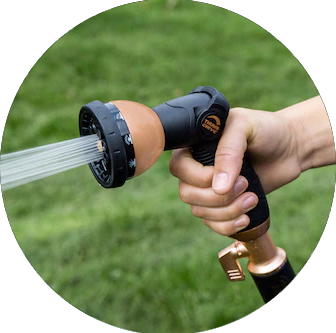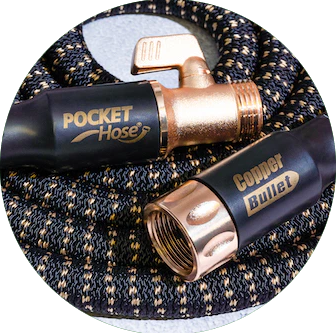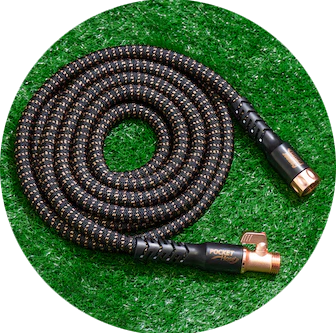 Richard Karn Approved
"This is the lightest, easiest hose I've ever owned in my life. It's so lightweight, easy to use but yet it's so durable and tough. It's a product I truly believe in and stand by. You've got to pick a pocket hose."
Richard Karn is an American Actor and home improvement enthusiast who knows all about tools.
Richard Karn Approved